Parachute Drop Ride
Coney Aerial View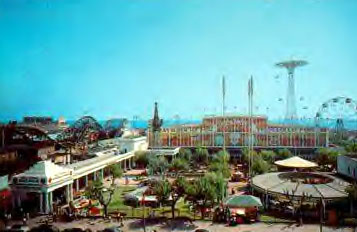 The Parachute Jump ride structure is visible from along the Brooklyn shore as far as Bay Ridge.
The Parachute Jump was taken down in December 2002 to be repaired and reassembled.
The last time we were there in 2006, we noticed it was put back up again. Yay!
See a picture of the Parachute Drop in action
The Coney Island Parachute Jump was built for the 1939-40 World's Fair in Flushing Meadows and was moved to Coney Island after the Fair closed. It was still open well into the 1960s
See another view of the Parachute Ride
---
Our New York Coney Island pages are sponsored in part by the New York Stop and Shop Peapod
Click here to get the Peapod Promotional Code and get $10 in free groceries with your first order.