Brighton Beach, NY
These are pictures of Brighton Beach that we took when we visited Brooklyn in New York.
Brighton Beach is a very popular place to visit at all times of the year.
The first picture is a view of Brighton from the water's edge.
You can't see the ocean water from the boardwalk, so you have to walk down to the water's edge
The sand has been replenished many times and it is real deep, but packed.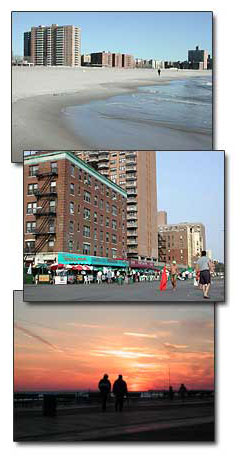 If you follow the boardwalk it will take you all the way to Coney Island, and can enjoy all the amusements, activities and fun in Astroland. The walk is about a mile, and you pass the New York Aquarium on the way.
The Brighton Boardwalk
It's a nice walk, but can become rather crowded at times, but there is so much to see that you don't even realize you walked that far, until... you have to walk back.
Taking the Subway
Most of the time when we feel like doing some sightseeing in New York too, we'll drive to Brooklyn, park our car, and then take the subway into New York. It takes about an hour, but we get some views of Manhattan that we wouldn't normally get to see.
To get there by NY subway from Manhattan, catch the F train and get off at the NY Aquarium, or B train and get off at Ocean Parkway. Subway tokens are obsolete now. They are using the plastic cards and swiping them.
Driving Directions
Belt Parkway, Exit 7 B, then turn south and go all the way to the beach on Ocean Parkway. If you arrive before 9 AM, you shouldn't have trouble finding a place to park on the street. Head towards the beach and park around there.
More Pictures of Brighton Beach
-a view under the subway of Brighton Beach Boulevard... Brighton Blvd
-another picture taken under the subway... under the subway
-a picture of the Brighton Beach Boardwalk... boardwalk view
-a picture of me relaxing on the boardwalk... me on boardwalk
-a picture of Brighton Beach beach... the beach
-another beach view looking east... beach view east ... another view
-this is how far it is from the boardwalk to the ocean... view towards boardwalk
-a view towards Coney Island... coney island view
-a picture of the jetty's and swimmers... jetties and beach
-a storm begins to roll in... storm coming
-I don't know why I took this picture of a side street... Brighton dumpster
-a picture of an old Brighton Beach fire hydrant... fire hydrant
-the Ocean Ave and Brighton Beach intersection... intersection
-this is a picture of Trump Village from the parking lot... Trump Village
-a picture taken from the subway... Brooklyn view
-a picture taken inside the subway... Brooklyn Subway
-looking out the window at the graffiti... window view
-Akvarium concert in Brighton 12-2-2000... Boris Grebenshikov
-Akvarium... Akvarium concert another view
Also see the Coney Island page
---