Driving to Manhattan
Connecticut to New York
When you drive to New York City, how do you keep from getting lost?
We have visited Manhattan quite a few times, coming from CT, and easily got lost.
Can you get into Manhattan without paying a toll?
Yes you can, but they will get you to pay a toll on the way out.
Tip 1 - Get a Map of New York
The first thing you need is a map of Manhattan. Then get a map of where you are from to New York. Mark your exits.
Tip 2 - Leave Early for New York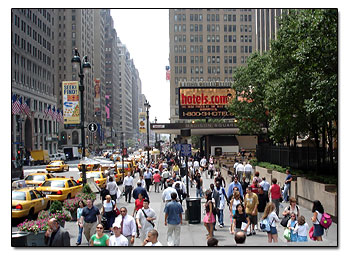 Give yourself lots of time, plan to be in New York all day. Our advice is... to go on a Sunday
Be in New York (or at least Brooklyn) by 9am, and out of New York by 9pm.
Taking the Metro Train
Our first trip to New York, we took the Metro train, and it took us all the way to Grand Central Station (which is an experience in itself, because you have to find out BEFORE you leave Grand Central Station, when the last train is going back.)
Driving the Merritt Parkway
Our second trip to New York we drove from Connecticut via the Merritt Parkway, caught 287/62 out of Rye NY, followed it to 9A, and took 9A right to the West Side Highway. (Once we exited Hwy. 9 by mistake) We took the West Side Highway to 42nd Street, parked, and walked several blocks to Times Square. Just don't forget where you parked.
The Whitestone Bridge
Our third trip to Manhattan, we went via the Whitestone Bridge and took Interstate 278 south to the Brooklyn Bridge. On the way back we left via Interstate 278 north, and accidentally exited the Verrazano Bridge and it cost us 18 dollars to come back to Brooklyn. So be careful you do not take the Verrazano Bridge exit!
Taking the Subway from Brooklyn
By our fourth trip to Manhattan, we had a friend living in Brooklyn and we went to visit him in Trump Village. He suggested that we just "take the subway" into Manhattan.
It turned out to be a great idea. We got off at 42nd Street, ate at a fine Japanese restaurant and took the subway back.
So this is what we do. Just park in Brighton Beach Brooklyn and take the subway to Manhattan. When you get your Metro ticket, ask for a map of the subway system.
The F train, Q train, B train and D train all go into Manhattan. Do not take the N train back. Map
Also see driving directions to JFK airport from CT, and Directions to Yankee Stadium.
---
This information is gathered from our own personal trips to NYC.
Therefore, some information on the pages may change as far as restaurants, hotels, things to do, etc.