Times Square Pictures
Manhattan NY
Times Square is the place to take your relatives when they come to visit you in New England.
When our relatives came, we got in the car and headed to Manhattan, New York.
There were several things they wanted to see and do in New York, but we knew from past experience, that you can't do it all in one day. So we had to decide what was most important.
We got on the subway on Ocean Parkway in Brighton Beach Brooklyn and we gave our relatives a grand tour of Manhattan, particularly Times Square, and we jumped on a double decker tour bus, which is something I always wanted to do.
Times Square is definitely a sight to see. Signs everywhere, and stuff we've never seen before.
The top picture is a long view of Times Square from the top of a tour bus we were riding in, taken looking north from W. 44th Street.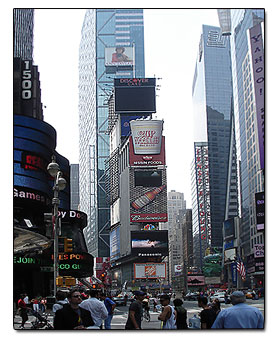 The bottom picture is of the place where the ball drops. If you look closely, you can see steam coming out of the Cup of Noodles cup. The picture was taken looking south from West 44th Street.
More Pictures of Times Square
-coming out of the subway at 42nd and Times Square... view of Times Square
-walking towards the center of Times Square... castle view ... getting closer ... crowd view
-This is a picture taken looking up where the ball drops... looking up ... another view
-a picture of Bubba Gumps Seafood restaurant... Bubba Gumps
-a view of Times Square action... Times Square action
-the Times Square crowds... Times Square crowd
-a long picture of Times Square, where the ball drops... ball drops
-a large picture of the Marriott Marquis hotel... Marriott Marquis
-heading back to Times Square, the tour guide points out where the ball drops... great view
-the picture we used for our ny website header picture... header picture
-a Times Square artist... caligraphy artist
Also see Bubba Gumps Shrimp Restaurant
Find a Times Square Hotel or see the Times Square Naked Cowboy
See Times Square at night.
---
This information is gathered from our own personal trips to NYC.
Therefore, some information on the pages may change as far as restaurants, hotels, things to do, etc.