New York Tourist
Hotels and Attractions
Local NY Attractions to Visit
Things to see in New York City
Wouldn't it be nice if we could see everything in New York City in one day?
Yes, it would be nice, but it is impossible!
There are only so many thing you can do. Shopping is always on the list of to do's.
But on our last trip we took a double decker bus sightseeing tour and we are so glad we did. The only thing was, that you had to choose from 3 different tours. So we chose the tour that went down to the Statue of Liberty.
This first picture is of the Flatiron building we took from the tour bus. They are in the middle of restoring it.
- WTC Globe at Battery Park
- 911 Memorial at Greenwich and Mulry Sq.
Bus Tours: New York offers unique double-decker bus tours. Hop-on, hop-off sightseeing tours. See every major sightseeing attraction from Harlem to the Museum Mile, the Empire State Building to downtown, Times Square, Wall Street to a scenic view of the Statue of Liberty plus historic Brooklyn.

Central Park: Central Park - Attractions include Park Zoo, boating, bicycling and ice skating.
Chinatown: Explore Chinatown
The Delta Building: See a picture of the murial on the side of the Delta Building Delta Building
Empire State Building: 350 Fifth Ave at 34th St. Take the one minute elevator ride to the top of the Empire State Building to gain a King Kong perspective of New York! From the 102nd floor observatory, with good visibility, views can extend between 50 and 80 miles. It's an experience not to be missed on 34th Street and 5th Avenue.
Flat Iron Building: These are pictures of the Flat Iron Building, as we approached it and drove right by it.
-approaching the Flat Iron building... Flat Iron Building ... a closer view ... they are remodeling it ... a remodeling project ... a view looking up .... the Flat Iron Building Entrance
NY SKYRIDE: What flies over the Statue of Liberty, dives underwater and launches into space but never leaves the ground? NY SKYRIDE, located on the second floor of the Empire State Building. It's a fun filled combination of movie-motion-and sights rolled up into New York's ONLY aerial virtual tour simulator. The NY SKYRIDE is an exciting IMAX style presentation combining high-definition technology and special effects, custom platforms and seats and a 6 meter high screen! The NY SKYRIDE is safe, fun and entertaining and open 365 days a year!
Fashion district: Saks Fifth Avenue - Bloomingdale's - Macy's This next picture was taken as we passed the Fashion District. This is where all the fashion models work. Upscale 57th Street Boutiques such as Fendi and Burberrys. - Bloomingdales, Lexington Avenue at 59th Street; (212) 705-2000 - F.A.O. Schwartz, 767 5th Avenue at 58th Street; (212) 644-9400 - Burberrys, 9 East 57th Street; (212) 371-5010. See a large picture of the button and needle
Herald Square: the intersection of Broadway and Sixth Avenue at 34th Street holds one of NYC's most famous icons of shopping: Macy's Clothing Store. Since 1902, Macy's Herald Square is one of the last turn-of-the-century department stores in existence. See Shopping in New York 1870
-Here's a picture of Macy's at Herald Square... Macy's Herald Square
-This is a picture of the original store of RH Macy... original store
-closeup of the statues... closeup of statues
-a picture of the Macy's sign... Macy's sign
Hayden Observatory: The Hayden Observatory is located on 78th and Central Park West.
Jacob Javits Convention Center: Jacob K. Javits Convention Center
Lincoln Center for the Performing Arts: Broadway and 64th St. Visit Lincoln Center for the Performing Arts and tour the complex of buildings that house some of New York's most exciting venues. Lincoln Center is the largest cultural complex in the world and one of New York City's most popular tourist destinations.
Metropolitan Opera: Make it an evening at the Metropolitan Opera and witness some of the most talented singers in the world as they take to the stage
Madison Square Garden: Madison Square GardenHome of the NY Rangers NHL Hockey team! Here's a picture of a crowd outside of Madison Square Garden

Radio City Music Hall: Sixth Ave. at 50th St. Radio City Music Hall is located in Rockefeller Center. Radio City Music Hall has undergone an unparalleled restoration, bringing back all the splendor of its past while installing state-of-the-art technology for its future.
Rockefeller Center: 48th to 51st St. Lose yourself in the 200 shops, services, restaurants, gardens, sculpture, murals, music and entertainment of Rockefeller Center. Home of the renowned Radio City Music Hall. CHRISTMAS TREE LIGHTING is held each year. The tree stays lit for one month. (December 5th, 2001). Tie up your skates and glide across the famous skating rink! - Right across from Carnegie Hall.
Shea Stadium: Shea Stadium is where the New York Mets play. Distance: 30 minutes by the 7 train to "Flushing"
Statue of Liberty: Statue of Liberty
St. Patrick's Cathedral: Fifth Ave at 50th St. Distance: 8 blocks. Revel in one of the finest examples of the Gothic-style in the United States, the magnificent St. Patrick's Cathedral. The Gothic Revival architecture took 27 years to complete and is imitative of the cathedral in Cologne, Germany which inspired its design. Named in honor of the patron saint of Ireland in recognition of the many Irish in New York.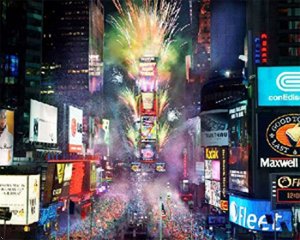 Time Square: Times Square attracts over 27 million tourists annually. Filled with different attractions ex: Shopping, Theaters, Restaurants and much much more..- Late Show with David Letterman - ESPN Zone - MTV Studios - NBC Studios- CBS Studios - FOX Studios. Broadway Theater District Broadway tickets Taxis at West 34th Street
United Nations Plaza: Located at First Avenue at 46th Street Multilingual guided tours featuring General Assembly Hall, Council Chambers, works of art from member nations. Gift shop, bookstore, restaurant, stamp counter, exhibits. Admission Fee. Seven days (closed weekends in January & February). United Nations NY
The United States Post Office: This is a big beautiful building, very old and very nice inside. Located at West 33rd Street and 8th Ave. Joe Louis Plaza See a picture of the New York US Post Office... closer view of top
Wall Street: Visiting Wall Street was very interesting indeed. Everyone is all dressed up. Men especially all had white shirts and ties. It was very different from Greenwich Village. See the first picture of the bull on Wall Street. Here's a backend picture of the bull.
New York Museums
Museums abound in New York City! Enjoy the comprehensive collection of 20th century art at the the Solomon R. Guggenheim Museum, Frank Lloyd Wright's landmark building, and the Guggenheim Museum in SoHo in the international center of contemporary art. -
Museum of Natural History
-
Museum of Modern Art
-
Folk Art Museum
-
Intrepid Air Space Museum
METROPOLITAN MUSEUM OF ART: The Metropolitan Museum of Art holds the world's largest and finest art museums with more than two million works of art from prehistory to modern day.
COOPER-HEWITT, NATIONAL DESIGN MUSEUM: The Cooper-Hewitt, National Design Museum, of the Smithsonian Institution, located at the corner of 91st Street and Fifth Avenue, is the only museum in the United States devoted exclusively to the study of historical and contemporary design
THE SMITHSONIAN'S GEORGE GUSTAV HEYE CENTER: Located at 1 Bowling Green - right next to Battery Park at the lower tip of Manhattan. Explore the diversity of the Native people of the Americas and the strength and continuity of their cultures from the earliest times to the present. The Smithsonian's George Gustav Heye Center of the National Museum of the American Indian is dedicated to the preservation, study, and exhibition of the life, languages, literature, history, and arts of Native Americans.
THE MORGAN LIBRARY: Morgan Library Located at 29 East 36th Street Collections of illuminated manuscripts, printed books and bindings, prints and drawings, historical documents, music, objets d'art. Cafe, bookstore, gift shop. Daily tours.
THE NEW YORK PUBLIC LIBRARY: New York Public Library Located at Fifth Avenue & 42nd Street proudly encourages use of its beautiful and majestic rooms as unique and memorable settings for special corporate events, business meetings, and conferences. Multilingual.
More NY Attractions and Shopping
-
Barnes and Noble
-
Barneys New York
-
Battery Park
-
Bergdorf Goodman
-
Bloomingdales
-
Broadway Theaters
-
Central Park
-
Century 21 Department Store
-
Chelsea Piers
-
Children's Museum of Manhattan
-
Chinatown
-
Chrysler Building
-
City Hall
-
Columbia University
- Columbus Circle Shopping
- Cruise Ports
- WTC Globe Memorial
- Ellis Island National Monument
- Empire State Building
- F.A.O. Schwarz
- Federal Hall
- Fraunces Tavern Museum
- Frick Collection
- Gershwin Theater
- Grand Central Station
- Greenwich Village
- Guggenheim Museum
- Guggenheim Museum Soho
-
Hammacher Schlemmer
-
Helicopter Tours New York City
-
Hunter College
-
Jacob Javits Convention Center
-
Lincoln Center
-
Little Italy
-
Lord and Taylor
-
Macy's Clothing Store
-
Madison Square Garden
-
Manhattan Mall
-
Metropolitan Museum of Art
-
Metropolitan Opera House
-
Museum of Jewish Heritage
-
Museum of Modern Art
-
Museum of Natural History
-
NBC Studios
-
New York Cruise
-
New York Public Library
-
New York Stock Exchange
-
New York University
-
Radio City Music Hall
-
Rizzoli Bookstore
- Saks Fifth Avenue
- Skyscraper Museum
- Soho and Tribeca
- Sony IMAX Theater
- South Street Seaport
- St. Patricks Cathedral
- Staten Island Ferry
- Statue of Liberty
- Tiffany & Company
- Times Square
- Trinity Church
- United Nations
- Whitney Museum of American Art
- 911 Memorial World Trade Center
---
This information is gathered from our own personal trips to NYC.
Therefore, some information on the pages may change as far as restaurants, hotels, things to do, etc.