Doubledecker Bus NY
Our New York Tour
Taking a New York tour on a doubledecker bus was probably the best decision we could have made when going to Manhattan NY.
We were recommended a tour by Newyorksiteseeing, but on the way to their office on 46th Street, we were approached by another company called City Sights NY, and they persuaded us to take their sightseeing bus instead.
We were not disappointed.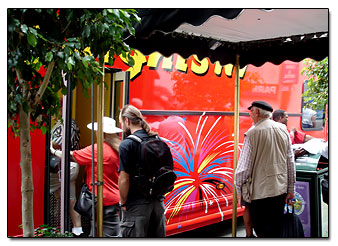 The bus never had more than 10 people on it at once, and we had the option for getting on or off anywhere we wanted along the route.
It was $37 dollars a person for the downtown tour which takes 3 hours. What a deal!
We also had a tour guide and he sure did know his stuff.
More Pictures of Double Decker Buses
-a larger picture of getting on the doubledecker bus... doubledecker bus
-I took a picture of a Heritage Tours trolley next to us... Heritage tours trolley
-a picture of a lot of taxi cabs that passed us... taxi cabs
-a view looking toward the back of the doubledecker... view towards back ... another pic of us
-a picture of a New York Sights bus, near the New York and Sherman Inn... New York Sights bus
-a view looking towards the front of the double decker bus, with the tour guide... tour guide
-a picture of the Continental Airlines tour bus... they are blue buses
-every stop we made, more people hopped on and some hopped off... view top deck

Pictures of New York
- the tour guide pointed out a fire department, Engine 54, Ladder 4, Battalion 9 on 8th Ave.... firehouse
-a large picture of the Sheridan New York... Sheridan New York ... another view
-approaching west 57th st... west 57th and 8th ave?
-passing the Sheridan Manhattan... Sheridan Manhattan
-a picture of the Michealangelo hotel on 7th Avenue... Michealangelo
-A picture of Macy's at the corner of 7th Ave and Fashion Ave.... Macy's Clothing Store
-a crowd outside of Madison Square Garden... Madison Square Garden
-a picture taken of the murial on the side of a building... Delta Airlines Murial
-a picture towards the New Yorker hotel at west 34th street... New Yorker at 34th street
-the tour guide also pointed out the Museum of Sex on 37th St... Museum of Sex
-then I realized I was taken pictures of famous buildings, and there was no way I could remember what the tour guide said they were... building ... also a park is below this tower...here's a church steeple
-passing 6th ave and Avenue of the Americas... 6th Ave view
John's Bleeker Street
We hopped off the doubledeckerbus in Greenwich Village, and ate at a poplar pizza place called John's Pizza. They have pictures of movie stars all over the walls.
- standing outside of John's of Bleeker Street... John's of Bleeker St
-a couple reads a review of Jack Black's in the window... window of John's Pizzaria
-a picture of John's pizza... John's Pizza and we got a beer
-an inside picture of John's Pizzaria... inside picture
-making pizza at John's... making pizza
-leaving John's pizza... leaving John's pizza
-we got an ice cream next door... icecream
-my sister noticed this sign as we were leaving... unnecessary noise prohibited
-we hopped back on the tour bus. The tour guide said this is as close as we would get to ground zero... view towards ground zero

See our pictures of the >> The Empire State Building
---
This information is gathered from our own personal trips to NYC.
Therefore, some information on the pages may change as far as restaurants, hotels, things to do, etc.