Directions to
Yankee Stadium
Since so many people have been asking, here's the driving directions to Yankee Stadium.
We passed Yankee Stadium several times on our way to Brighton Beach in Brooklyn.
We found it pretty difficult driving around in New York, and have gotten lost so many times on NY roads we finally know how to get there. So here you go
New York from I 95 in CT
Basically, all you have to do is take Interstate 95 to Interstate 87 South and Exit 6, and, I wish it were that simple!
The problem arises going across the Bronx, with the spiderweb of Interstates, it can get pretty confusing. The best way to look at it is through the distance from each exit to the other
.>> Get on Interstate 95 towards New York
At I-95 Exit 6A, turn off onto Ramp 0.7 miles onto I-95 / I-678 / Cross Bronx Exp. / Geo. Washington Br / Whitestone Br

Merge onto I-95 [Cross Bronx Exp.] (West) 4.1 milesAt I-95 Exit 1C, turn off onto Ramp 0.7 miles I-87 / Queens / Albany / Amsterdam Ave.
Merge onto I-87 [Major Deegan Exp.] (South) 0.6 miles
At I-87 Exit 6, turn off onto Ramp 0.8 miles E 153 St. / River Ave.
Bear RIGHT (South) onto E 153rd St. 65 yd.
Turn LEFT (North) onto River Ave. 0.1 miles
Turn LEFT (West) onto Local road(s) 87 yd.
Arrive Yankee Stadium, Yay, you made it!
Driving to Yankee Stadium via Merritt Parkway, CT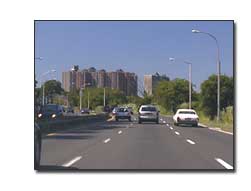 We usually take the Merritt Parkway into New York
>> So, get on the Merritt Parkway towards New York.
Drive, drive, drive... and it will become the Hutchinson River Parkway when it hits the state line (like in the picture.) Follow it taking the Whitestone Bridge Exit
The tricky part is that the Hutchinson River Parkway crosses Interstate 95 three times, and you don't want to take it the first or second time you see an I-95 exit, you have to wait till the third time you see I-95, which is also Interstate 278. (Exit or you will wind up going over the Whitestone Bridge!)
Exit to the right, and follow the signs to get on Interstate 278 going south BE CAREFUL, CAUSE YOU WILL HAVE TO SWITCH LANES!
Follow Interstate 278 south till you see an Exit to Interstate 87(Mayor Deegan Expressway)When you're finally on Interstate 87, Exit 5 for Yankee Stadium and you're there! Getting back is a different story!
This to us is the best way to go even though it seems confusing, but it is so scenic and you get such great views of New York City it's worth it.
---
This information is gathered from our own personal trips to NYC.
Therefore, some information on the pages may change as far as restaurants, hotels, things to do, etc.