Rye Beach in Rye, New York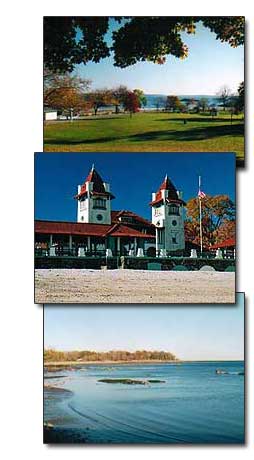 We have been to Rye Beach NY one time, and enjoyed every second we were there.
We were traveling back to CT from New York, and exited Rye to get some gas and saw the sign for Rye Beach.
The Rye park and beach are so scenic and really big. Just looking at the style of the beachouse with the contrast of white stone and bright red slate roofs, makes you feel like you're in another land. (See picture on front page)
This is a picture of the park that is right next to the beach. Very, very scenic.
We enjoyed digging our toes in the abundance of smooth light yellow sand, and taking a stroll all the way to the amusement park called Playland.

But we didn't even take the time to photograph Playland, we were too busy looking at the scenic view. A wonderful place to visit. Go and visit Rye Beach for some summer fun!
Directions: Exit 19 off of Interstste 95. Follow Old Post Rd south to Playland Parkway. Follow Playland Parkway till it ends and make a right. And follow this road till you see the Rye Town Park.
Rye New York Restaurants
Captain Hook's Seafood Restaurant - 1 Playland Pky Rye, NY 10580 (914) 925-0075
Piazza Pizza Restaurant - 520 Milton Rd Rye, NY 10580 (914) 921-4444
Volcano Grill - 4 Barron Pl Rye, NY 10580 (914) 921-1942
Courtyard by Marriott Rye NY
Courtyard By Marriott Rye 631 Midland Avenue Rye, NY United States
-AM/FM Alarm Clock - Bar and Lounge - Coffee Maker in Room - 24 Hour Front Desk - Handicapped Rooms and Facilities - Express Checkout - Free Parking - Meeting and Banquet Facilities - No Smoking Rooms and Facilities - Restaurant - Safe Deposit Box - Fitness Center or Spa - Television with Cable - Laundry and Valet Services
"The hotel designed by business travelers, Courtyard surrounds you with all the conveniences that make business and pleasure travel easy. The Courtyard Rye is conveniently located one mile from Westchester Country Club, three miles from Rye Playland, four miles from the State University of New York and five miles from White Plains."
Directions
Take New York Exit -22 (Midland Ave) At the end of the ramp bear right towards Port Chester Turn left at the 1st traffic light into the Courtyard dirveway.
---